Self-Catering landlords' work is far more labour intensive than 'long-term' letting. But before you even think about your workload and commitment to the property, you need to objectively look at your property, establish that holiday lets are within the guidlines of your Lease and then decide whether or not it is appealing to a tourist, or short-term stay visitor.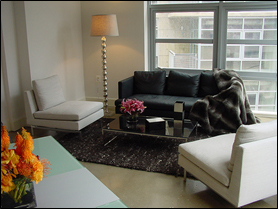 In general holiday guests are looking for good quality self-catering accommodation offering modern fixtures and fittings whilst providing a 'home from home' feel. Properties located within close proximity of the sea or town centre will demand higher rental rates however accommdation located out of the Town Centre and away from the sea will still be considered desirable. When furnishing your property consider whether a sofa bed would be suitable to accommodate additional guests and maximise your income, properties with off road parking and outside space are in demand.
Due to the ever-rising amount of holiday accommodation in the Bournemouth area it is important that your property meets guests expectations, so when considering whether or not your property is suitable for Holiday Lettings, try to see yourself as the visitor and consider what you look for when visitng a holiday destination.